William Taylor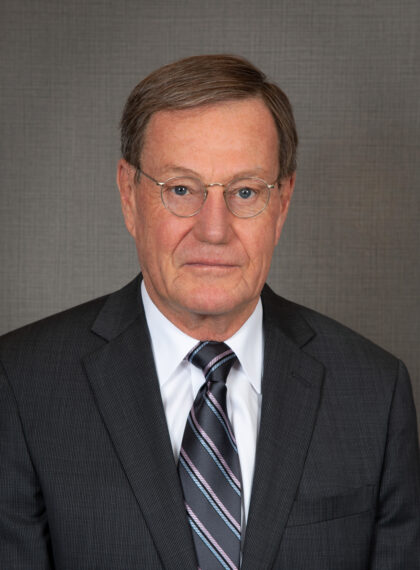 Education: University of South Dakota (BA English 1968; Juris Doctor cum laude, 1971). Admitted to the South Dakota bar in 1971. Captain, US Army Reserve, 1968-1976.

Bill joined Woods, Fuller, Shultz and Smith, the state's oldest and largest law firm, in December of 1971. He resigned in 2015 to join his son John Taylor in private practice. During his tenure at Woods, Fuller, Bill rose to senior partner and was the firm's president for eight years, ending with his resignation in 2015. Today he represents clients from many backgrounds, and is considered one of the state's senior environmental lawyers.
Bill has been named in The Best Lawyers in America continuously since 1986. He has been listed in eight disciplines over the years, including business, real estate and litigation categories, including "bet the company" litigation. He has been recognized by Minnesota Law and Politics as a South Dakota Superlawyer, and is recognized in Chambers USA. He has been AV rated by Martindale-Hubbell for decades.
Bill is a 3,300 hour instrument rated private pilot. He is interested in all recreational sports, particularly skiing and biking, and is a fitness enthusiast. He is an active hunter and fisherman, and for many years was a competitive shooter. Bill and his wife Cheryl are the parents of two sons.
Practice Areas
Agricultural law
Construction law
Environmental law
Energy and natural resources law
Planning and zoning
Real estate law
General business law
Eminent domain
Administrative law and trial practice in all state, tribal and federal courts and agencies.
Bill has a depth of experience in business, natural resources, energy, real estate, personal injury, products liability, criminal and business litigation.
Bill's administrative law experience includes trials and hearings before numerous state and federal agencies, including the Federal Aviation Administration, OSHA, MSHA, the Department of Agriculture, the South Dakota Board of Minerals and Environment, Department of Revenue, Department of Transportation, Department of Labor, Board of Dental Examiners, Pharmacy Board, Water Management Board, Public Utilities Commission, the Minnesota Public Utilities Commission and Pollution Control Agency, North Dakota Public Utilities Commission, and the Iowa, Indiana and Ohio Departments of Environmental Quality. He has served as an environmental hearing officer.

He is an active construction practitioner. He served as general counsel to the state's largest highway and bridge builder. He represents a number of construction companies active in all phases of the construction industry. He has extensive construction trial and arbitration experience. He has served as a construction arbitrator.

He has handled agricultural, commercial and residential real estate purchases and sales at all levels. He has managed all the legal aspects of the development of large scale commercial and residential subdivisions, and argued a wide variety of planning, zoning, and real estate tax cases in court and before boards and commissions.

His trial practice has ranged from criminal through a wide variety of civil trials, including domestic relations. His personal injury practice includes handling innumerable plaintiff and defense cases ranging from air crashes to wrongful death, products liability and sexual assault.
In addition to trials in South Dakota federal, state and tribal courts, Bill has tried cases to verdict in Minnesota, Wyoming, Nebraska, Iowa, and Illinois. He has appeared in the courts and before the agencies of Montana, Indiana, Ohio, Colorado, and North Dakota.

His experience as a general business practitioner includes securities filings and general representation of a host of South Dakota businesses and industries. He has served as South Dakota counsel for a number of national concerns. He has represented local, regional and national businesses in Iowa, South Dakota, Minnesota, Wyoming and North Dakota, and served as state counsel for a Fortune 50 company formerly headquartered in South Dakota. He is formerly general counsel for a multi-state electrical energy joint action agency, and currently state counsel for a major international pipeline project.

He has appeared in and conducted trials in most South Dakota Tribal Courts. He has served as legal consultant to tribal councils and tribal chairmen, and been actively involved in Indian gaming matters.

He has represented a host of South Dakota political subdivisions, including townships, municipalities, counties and the state itself, in construction, personal injury, real property tax, environmental, zoning and condemnation matters.

Bill has served on the board of directors of the McCrossan's Boys Ranch, Ski Sioux Falls, the Nature Conservancy of the Dakotas, Dakota Savings and Loan, and Metropolitan Federal Bank. He is a former trustee of the McCrossen's Foundation. He served eleven years as a member of the South Dakota Board of Minerals and Environment. He has served as a member of the South Dakota Board of Bar Examiners, and on a number of South Dakota Bar and South Dakota Trial Lawyers Association committees.